Phase 1:
Once you agree to work with us, we will ask you to provide access to your company's information, including any current project management systems in use, standard operating procedures, and existing processes.

We will thoroughly review this information and schedule an Onboarding Call during which we will ask you specific questions to better understand your business needs. By gaining a deep understanding of your business, we can provide tailored solutions that will help your business thrive.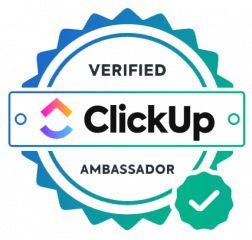 Phase 2:
In this phase, we will create the first version of the structure. We will then discuss it together, and make any necessary changes immediately until the structure is fully approved by you. We believe that an effective framework is essential for the success of your business and we will work closely with you to ensure that it meets your needs for all of the departments within your organization.

Phase 3:
At LogiCore Tech, we understand the importance of providing training for your team to ensure that they can effectively utilize the tools and resources provided. Our team will provide comprehensive training for your team, on the features and hidden gems of ClickUp. Additionally, we will provide training files for your future employees, ensuring that they have the necessary knowledge and skills to effectively use the platform. This general training will provide your team with the resources and knowledge they need to improve their productivity.
Phase 5:
Onboarding.  At LogiCore Tech, we understand the importance of smooth transition and ongoing support when it comes to implementing new solutions. In stage 5, we will onboard you into the built-out structure, ensuring that you are fully familiarized with the new systems and processes. Our team will provide ongoing support, making sure that you have all the resources you need to operate smoothly on a daily basis.

Phase 4:
In the build-out phase, we will focus on implementing dashboards and automation to improve efficiency. We will also take care of transferring any necessary data from other locations. This build-out phase is crucial for ensuring that your business is running smoothly and effectively. We will work closely with you to understand your specific needs and deliver solutions that exceed your expectations.

At LogiCore Tech, our ultimate goal is to provide solutions that improve the productivity and efficiency of your business.

By the end of our process, you will have a team that is happier, more productive, and able to work more efficiently. Additionally, you will have visibility into the operations of your company, allowing you to make informed decisions and improve the performance of your business.

If you're interested in learning more about how we can help your business succeed, we invite you to schedule a call with us today.
Check out our range of services below or
the combined packages we offer:
You are good with ClickUp, but just need a professional set up
If you need to bring all your platforms together and avoid manual work
We work with businesses of any size and complexity - from start-ups to enterprises